Gobli Ace

Debut

(Anime)

Appears in

Anime, Manga, Video game

Partner
Affiliation

Xenon
The Xenon Gobli Ace is a Gyrozetter piloted by Toma during his first attack on Arcadia Academy. It can be considered as Xenon's first Gyrozetter as its the first Xenon Gyrozetter to transform. After being struck and defeated by Raibird, Toma realised Gobli Ace won't be able to beat it and escaped. Gobli Ace was no longer seen (or is merely present in the Xenon base background) as Toma later switched to a more powerful Gyrozetter, the Agito Twin S .
Appearence
Edit
Gobli Ace's vehicle form is exactly the same as the standard Gobli except its has an ornament on its roof and has different colour scheme; a blue-ish dark gray with purple highlights. Its a simiar case with its robot form; same short stature and goblin-esque design. The only difference is its head and its shoulders; while it has the same shape as a standard Gobli, the roof ornament acts as a third spike on its head and seems to have some kind of visor opposed to the standard Gobli's single eye. It's shoulders seem to sport similar ornaments as well.
Gyrozetter Form
Edit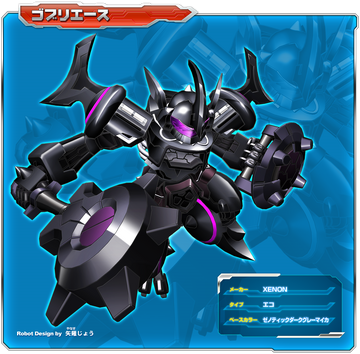 It can be assumed that as its Xenon's first working Gyrozetter and that it's the "ace" of the Gobli squad, Gobli Ace is possibly more stronger than the regular Gobli. It does not seem to have a shield however and despite its weapon having a name, "Gobli Hammer" seems no different from the regular mace the standard Gobli wields.