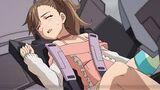 Michinori Hane and "Michie" is a main character in Chousoku Henkei Gyrozetter. He is the fourth chosen driver to awaken. He is also the only child to awaken before his name appeared on the Rosettography as a dangerous situation called for it.
Personality
Edit
Michie is a humurous kinda guy, often making jokes when they aren't needed. Kakeru Todoroki
Write the second section of your page here.